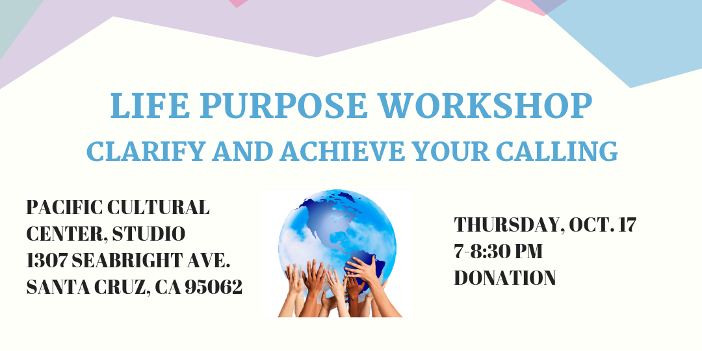 Clarify how you want to use your gifts to serve the world at this donation-based workshop. The evening will include a guided meditation to help you gain insight about the difference you most long to make, as well as identifying next steps that will help you succeed. There will be opportunity to share your aspirations (if desired) and the potential for meeting others who can support you. A complimentary gift will also be offered that is designed to facilitate your progress.

Although we are experiencing a global crisis, it is also an opportunity to create a new paradigm of health, sustainability, justice, equality, unity, and prosperity for all. We must work together and support each other in order to create such a life-sustaining society. The workshop is offered by donation.

* Clarify your life purpose
* Create greater fulfillment & success
* Use your unique gifts, skills & talents to serve the world
* Feel empowered and inspired to pursue your dreams
* Receive support and build community
Your host, Cynthia Baker, LMFT is a Life Coach, Psychotherapist, and Hypnotherapist specializing in life purpose clarity and achievement. She has over a decade of experience guiding individuals to live the life they long for. She is the author of the forthcoming book, The Ultimate Life Purpose Workbook.
LIFE PURPOSE WORKSHOP:
Clarify & Achieve Your Calling
Pacific Cultural Center
1307 Seabright Ave., Back Studio
Santa Cruz, CA 95062
7-8:30 PM Thursday, October 17, 2019

By Donation